Cleanroom Technology Market Insight
Update time:2019-6-26 16:45:56 Browse times:1373
The global cleanroom technology market size was estimated at USD 3,097.8 million in 2016 and is expected to witness a lucrative CAGR of 5.1% over the forecast period. Stringent regulatory standards for cleanrooms, technological advancements, and increased demand for cleanrooms to develop quality products are some of the major factors estimated to drive the market.
Cleanrooms are classified on the basis of number and size of particulate matter permitted per volume of air in the manufacturing unit. Federal Standard 209, British Standard 5295, ISO Standard, and Pharmaceutical Cleanroom Classifications are the regulatory standards used for classifying cleanrooms. International Organization for Standardization (ISO) produced a standardized system for cleanroom classification in order to bring uniformity, as most of the manufacturing companies followed their respective country-specific standards. Companies must comply with these standards for product approvals and develop quality and standardized products. As a result, demand for equipment and consumables employed in cleanrooms is rising globally.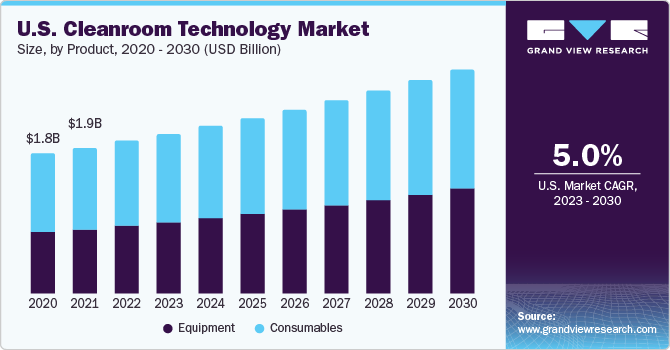 Increase in demand for installing cleanroom technologies for manufacturing quality products in various industries is also expected to drive the market over the forecast period. Various sources of contaminations such as personnel, raw materials, product flow, and machinery are likely to contaminate the product being manufactured. Cleanroom technology protects the final products as well as manufacturing processes against contaminants. It is an integral part of healthcare industry, serving the purpose of developing standardized products as per regulatory norms.
Technological advancements are one of the important factors expected to drive the market. Cleanroom technologies have transitioned from being conventional constructive to modular flexible cleanrooms. Benefits such as quick installation, reconfiguration as per requirement, and cost-effectiveness are some of the key factors that boost demand for modular cleanrooms in various industries. In September 2017, Telstar developed a standardized version of biological safety cabinet-BioVanguard-which belongs to class 2 biological safety cabinets that have low power consumption, maintenance cost, and noise levels. BioVanguard requires low maintenance and has long-lasting HEPA filters due to presence of integrated prefilter system. It can also be customized for application in pharmaceutical, medical devices, and biotechnology industries.
The global healthcare industry is flourishing due to increase in demand for pharmaceutical products, nutraceuticals & cosmeceuticals, medical devices, and biotechnology products. Cleanrooms are crucial in these sectors as products manufactured by these industries have a direct impact on human lives. Cleanroom technologies have a number of applications in pharmaceutical industries. According to data published by WHO, total revenue generated from pharmaceutical industries has reached over USD 300 billion, which can be attributed to branded or innovative patented drugs. However, generics are equally important as they are easily available to a large fraction of population worldwide. Thus, the use of this technology is expected to increase in the healthcare sector.
Previous:Cleanroom Consumerables to witness highest growth by 2020 
Next:None